2009 Halloween Tribute Summoning Witch w/ Cat
Item Code: DSM7506
There are two different arm options enclosed in this piece (summoning a Dark Sword with both hands or holding a spell book while summoning an imp) so you can set her up however you like.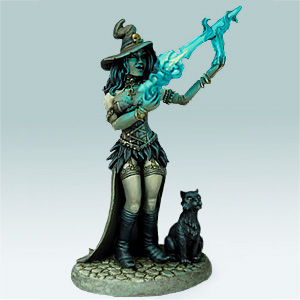 The miniatures are not pre-painted!
All items come in bare pewter metal.
Assembly required on some figures.
Some sets contain small parts.
Not suitable for children under 14 years of age.
Our Recommendation:
Similar Models:

Image
Description
Price
Cart
Green Witch - Female Witch
DSM1101


In Stock:

(stock may drop shortly)

11,99 €



Add to Cart

Ravenstone - Female Witch
DSM1107


In Stock:

(stock may drop shortly)

11,99 €



Add to Cart

Female Witch - Early Snow
DSM1115


In Stock:

11,99 €



Add to Cart

Casting Wizardress
DSM1125


In Stock:

(stock may drop shortly)

11,99 €



Add to Cart

Female Witch - Close Combat
DSM1138


In Stock:

(stock may drop shortly)

11,99 €



Add to Cart

Female Mage
DSM1139


In Stock:

(stock may drop shortly)

11,99 €



Add to Cart

Female Witch - Wiz Biz II
DSM3101


In Stock:

(stock may drop shortly)

11,99 €



Add to Cart

Female Mage
DSM7107


In Stock:

(stock may drop shortly)

11,99 €



Add to Cart

Female Mage - Demorgan
DSM2103


In Stock:

(stock may drop shortly)

11,99 €



Add to Cart

Black Witch
DSM2107


In Stock:

(stock may drop shortly)

11,99 €



Add to Cart

Older Woman With Owl
DSM2116


In Stock:

(stock may drop shortly)

11,99 €



Add to Cart

Female Mage
DSM1148


In Stock:

(stock may drop shortly)

11,99 €



Add to Cart

The Summoner (Variant)
DSM2204


In Stock:

(stock may drop shortly)

11,99 €



Add to Cart

Sexy Witch
DSM1152


In Stock:

(stock may drop shortly)

11,99 €



Add to Cart

Female Mage
DSM1153


In Stock:

(stock may drop shortly)

11,99 €



Add to Cart

Female Magic User
DSM7205


In Stock:

(stock may drop shortly)

11,99 €



Add to Cart

Female Mage
DSM1158


In Stock:

(stock may drop shortly)

11,99 €



Add to Cart

Female Witch w/ Wand
DSM1159


In Stock:

(stock may drop shortly)

11,99 €



Add to Cart

Evil Female Sorceress
DSM7402


In Stock:

(stock may drop shortly)

11,99 €



Add to Cart

Marike Mistress of the Bugs 54mm
DSM7501


In Stock:

(stock may drop shortly)

29,99 €



Add to Cart

Marike Mistress of the Bugs 28mm
DSM7502


In Stock:

(stock may drop shortly)

14,99 €



Add to Cart

Daenerys with Newborn Dragons - 54mm
DSM5501


In Stock:

(stock may drop shortly)

29,99 €



Add to Cart

Female Mage w/ Swan & Cat
DSM7601


In Stock:

(stock may drop shortly)

17,99 €



Add to Cart

Female Mage - Easley
DSM4106


In Stock:

(stock may drop shortly)

11,99 €



Add to Cart

Female Mage with Staff
DSM7304


In Stock:

(stock may drop shortly)

11,99 €



Add to Cart

Evil Female Mage
DSM1168


In Stock:

(stock may drop shortly)

11,99 €



Add to Cart

Female Shaman
DSM1177


In Stock:

(stock may drop shortly)

11,99 €



Add to Cart

Female Mage
DSM7436


In Stock:

(stock may drop shortly)

11,99 €



Add to Cart

Female Mage on Stairs
DSM1187


In Stock:

(stock may drop shortly)

11,99 €



Add to Cart

Thief of Hearts #6 - Sorceress
DSM7526


In Stock:

(stock may drop shortly)

17,99 €



Add to Cart

Female Mage
DSM1192


In Stock:

(stock may drop shortly)

11,99 €



Add to Cart

Female Mage with Staff
DSM1189


In Stock:

(stock may drop shortly)

11,99 €



Add to Cart

Witch with Minion - Halloween 2013
DSM7533


In Stock:

(stock may drop shortly)

24,99 €



Add to Cart

Jessica - Keeper of the Glade
DSM6502


In Stock:

(stock may drop shortly)

17,99 €



Add to Cart

Female Mage with Feral Cats
DSM7604


In Stock:

(stock may drop shortly)

15,99 €



Add to Cart

Zarese of the Silver Moon - Female Mage with Staff
DSM4612


In Stock:

(stock may drop shortly)

14,99 €



Add to Cart

Ash Firefeather - Female Elven Mage
DSM4611


In Stock:

(stock may drop shortly)

11,99 €



Add to Cart

Female Mage with Staff
DSM7312


In Stock:

(stock may drop shortly)

14,99 €



Add to Cart

Female Witch/Hag
DSM4640


In Stock:

(stock may drop shortly)

11,99 €



Add to Cart

Female Mage Seductress
DSM7306


In Stock:

(stock may drop shortly)

11,99 €



Add to Cart

Female Mage with Staff
DSM7308


In Stock:

(stock may drop shortly)

11,99 €



Add to Cart

Female Mystic/Mage with Staff
DSM7460


In Stock:

(stock may drop shortly)

11,99 €



Add to Cart

Female Mage with Staff
DSM7465


In Stock:

(stock may drop shortly)

11,99 €



Add to Cart

Overwatch - Female Mage with Staff
DSM1193


In Stock:

(stock may drop shortly)

11,99 €



Add to Cart

Female Mage
DSM7623


In Stock:

(stock may drop shortly)

11,99 €



Add to Cart

Female Necromancer
DSM7639


In Stock:

(stock may drop shortly)

11,99 €



Add to Cart

Female Witch / Old Crone with Owl
DSM7332


In Stock:

(stock may drop shortly)

11,99 €



Add to Cart

Female Witch / Old Crone with Staff
DSM7333


In Stock:

(stock may drop shortly)

11,99 €



Add to Cart

Female Witch / Old Crone with Cat
DSM7334


In Stock:

(stock may drop shortly)

11,99 €



Add to Cart

Female Mage
DSM6402


In Stock:

11,99 €



Add to Cart

Female Pinup Witch
DSM7335


In Stock:

(stock may drop shortly)

11,99 €



Add to Cart

Female Sorceress
DSM7344


In Stock:

(stock may drop shortly)

11,99 €



Add to Cart

Female Mage with Staff
DSM7356


In Stock:

(stock may drop shortly)

11,99 €



Add to Cart

Marching Female Mage with Staff
DSM7379


In Stock:

11,99 €



Add to Cart

Sitting Female Mage
DSM7384


In Stock:

(stock may drop shortly)

11,99 €



Add to Cart

Female Mage -Yexian
DSM7660


In Stock:

(stock may drop shortly)

11,99 €



Add to Cart

Female Mage with Spellbook
DSM6405


In Stock:

11,99 €



Add to Cart

Female Elven Wizard
DSM7116


In Stock:

11,99 €



Add to Cart

Female Necromancer with Staff
DSM7233


In Stock:

(stock may drop shortly)

11,99 €



Add to Cart

Female Elven Floating Wizard
DSM7123


In Stock:

(stock may drop shortly)

13,49 €



Add to Cart

Female Mage
DSM1234


In Stock:

11,99 €



Add to Cart
11,99 €


Add to cart

In Stock:

(stock may drop shortly)