Female Elven Warrior with 2 Weapon Options
Item Code: DSM7498
This miniature comes with both weapon options shown so you can choose how to equip her. Please see "Details..." for more pics.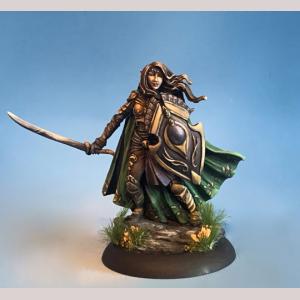 The miniatures are not pre-painted!
All items come in bare pewter metal.
Assembly required on some figures.
Some sets contain small parts.
Not suitable for children under 14 years of age.
Our Recommendation:
Similar Models:

Image
Description
Price
Cart
The Offering - Female Dark Elf Warrior
DSM1104


In Stock:

(stock may drop shortly)

11,69 €



Add to Cart

Female Warrior - The Offering "Alternate Version"
DSM1129


In Stock:

(stock may drop shortly)

11,69 €



Add to Cart

Female Vrykyl
DSM1141


In Stock:

(stock may drop shortly)

11,69 €



Add to Cart

Female Elven Warrior - Valshea
DSM2101


In Stock:

(stock may drop shortly)

11,69 €



Add to Cart

Advancing Elf
DSM1146


In Stock:

(stock may drop shortly)

11,69 €



Add to Cart

Female Elven Archer
DSM1154


In Stock:

(stock may drop shortly)

11,69 €



Add to Cart

Sea Elf Mermaid Warrior
DSM1157


In Stock:

(stock may drop shortly)

11,69 €



Add to Cart

Female Dark Elf Warrior with Bastard Sword
DSM7407


In Stock:

(stock may drop shortly)

11,69 €



Add to Cart

War Eagle with Female Elven Rider
DSM7011


In Stock:

(stock may drop shortly)

59,99 €



Add to Cart

Female High Elf Warrior with Sword and Shield
DSM7414


In Stock:

(stock may drop shortly)

11,69 €



Add to Cart

Female Wild Elf
DSM1164


In Stock:

(stock may drop shortly)

11,69 €



Add to Cart

Female Wood Elf Warrior
DSM7419


In Stock:

(stock may drop shortly)

11,69 €



Add to Cart

Female Dark Elf with Hand Crossbow
DSM7432


In Stock:

(stock may drop shortly)

11,69 €



Add to Cart

Female Elven Fighter
DSM7435


In Stock:

(stock may drop shortly)

11,69 €



Add to Cart

Tara Swiftblade - Female Elven Warrior with Sword/Shield
DSM4604


In Stock:

(stock may drop shortly)

11,69 €



Add to Cart

Female Elven Archer
DSM1196


In Stock:

(stock may drop shortly)

11,69 €



Add to Cart

Female Dark Elf Warrior - Dual Wield
DSM7481


In Stock:

(stock may drop shortly)

11,69 €



Add to Cart

Female Warrior with Sword and Shield
DSM7485


In Stock:

(stock may drop shortly)

11,69 €



Add to Cart

Female Elven Warrior with Scimitar
DSM7499


In Stock:

(stock may drop shortly)

11,99 €



Add to Cart
11,69 €


Add to cart

In Stock:
(stock may drop shortly)